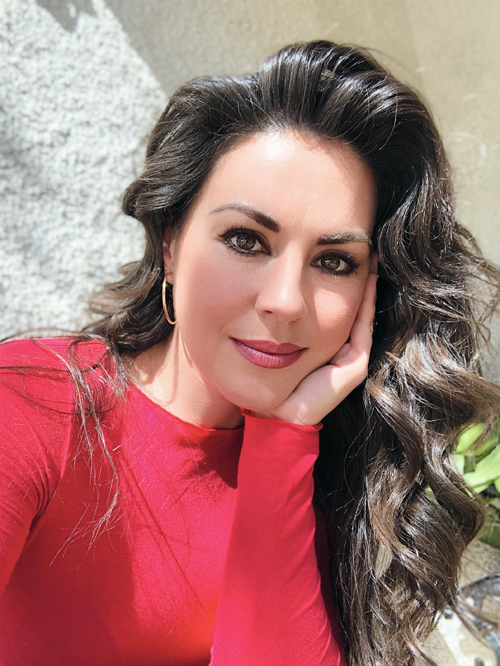 ROCÍO IGNACIO.
Soprano.

Rocío Ignacio, Soprano, was born in Seville and reached de degrees of Superior in Music and Superior in Piano at the Music Conservatory Francisco Guerrero. Later, the Senior in Singing at the Superior Conservatory in Córdoba. Currently, Alfonso García Leoz is his vocal and artistic guide.

She was granted, among others, with the 1st Prize of the Singing International Contest Ciudad de Logroño on 2009 and with the 3rd Prize in Irún and Barcelona.

Rocío Ignacio accomplishes an outstanding carreer in Oratory and Concert, alternating with Opera. Her Opera debut is within Rigoletto on 2003, since then, she is a usual guest at the Spanish theatres with operas as Rigoletto in Coruña, Santander, Jerez, Jaén, Mallorca, Santa Cruz de Tenerife; Die Zauberflöte (Pamina) in Murcia; L'Elisir d'Amore in Córdoba, Málaga, Castellón, Palau de Les Arts and Bilbao; other titles: Falstaff, Viaggio a Reims, Werther, Marina, Francisquita, Caserío, etc.

Rocío Ignacio mostly sings in Italy and Spain since 2011, singing operas as: Quatro Canções da Floresta do Amazonas and L'Elisir d'Amore in Bologna; Opening Gala and Il Barbiere di Siviglia at the Arena di Verona; La Bohème, Viaggio a Reims and L'Elisir d'Amore at the Maggio Fiorentino; Rigoletto at the Teatro Regio di Calabria, Palermo and Taormina; Don Giovanni (Dogna Anna) at Massimo di Palermo and Regio di Torino; Misterium at the San Carlo di Napoli and Roma; Carmen (Micaela) at the Avenches Arena and Verona; Turandot (Liu) in Roma (Caracalla) and Verona. She also performs in Spain: Carmen (Micaela) and La Marchenera at the Zarzuela Theatre in Madrid; La Marchenera at the Teatro Campoamor in Oviedo; Don Giovanni at the Maestranza in Seville and Barcelona's Liceo; we also have to stand out her interpretations of L'Eisir d'Amore in Omán; Dogna Anna from Don Giovanni in Tampa (USA) and Barbiere di Siviglia in Dubái.

Even so, her carreer has specially developed these last seasons, due to the inclusión of lyric roles as Katiuska at the Teatro the La Zarzuela in Madrid; Desdemona from Otello at the Teatro Cervantes in Málaga; Hélène in Verdi's Jérusalem with ABAO; Gala at the Teatro de La Zarzuela in Madrid or Pamina in Die Zauberflöte at the Teatro Villamarta in Jerez. Specialized reviews praises her repertory change: "The soloist trio was closed by an overwhelming Rocío Ignacio... Rocío Ignacio performed a solid Desdemona, due to a vocal instrument that she manages secure in the mids and emphatic in the high notes." Opera Actual. "Her Hélène was very musical, she sang a beautiful, excelent "Que m'importe la vie..."." Opera Actual. "The audience in the Villamarta was delighted with Pamina, magnificently sung and performed by the sevillian soprano Rocío Ignacio, who begins this 2020 with a decisive success in Jerez." Diario de Jerez.
We must stand out her debut of Amelia Grimaldi from Simone Boccanegra in Malaga: "Rocío Ignacio turned on great lights in her construction of the heroine, tremendous, grown in silence and sovereign in tone. Álvarez and Ignacio's hand in hand drew the applause even from the spectators who were missing due to the Pandemic. ". She later played Carolina in Luisa Fernanda and Rosa from El Rey que Rabió at the Teatro de la Zarzuela.
Likewise, during the 21/22 season, she has participated in recitals and concerts in different Spanish cities; she has debuted Nedda from I Pagliacci with ABAO at the Euskalduna Palace in Bilbao: "while Rocío Ignacio, with her beautiful and powerful voice, even caused chills emotion in his Nedda" by José Miguel BALZOLA, critic in Bilbao for ÓPERA ACTUAL; also the Duchess Carolina of Luisa Fernanda at the Cantabria Festival Palace and Leonora of Il Trovatore at the Cervantes Theatre in Málaga, receiving great write up such as: "I expressly leave Rocío Ignacio for last, a soprano in a very clear ascending career, who should appear on the posters of many more theaters abroad. She has evolved enormously since its inception, both technically and vocally. The flow has grown what could not be imagined. She has homogeneity and, the most remarkable thing in this performance is that she was the one who knew how to manage the "piani", used half voices and provide subtlety in a role of great demands, from the agility of the cabaletta in the first aria to the strength of "Tu vedrai", passing through the subtleties of "Amor sull'ali rosee" or the roundness of her phrases in the "Miserere". A great and very positive surprise" Gonzalo Alonso, La Razón.
She has worked with great conductors like A. Zedda, D. Renzetti, D. Lipton, G. L. Martinenghi, J. Neschling, Omer Meil Wellber, E. García Asensio, S. Alapont, R. Jimeno, J. M. Pérez Sierra, G. la Malfa, C. Montanaro, Andrea Battistoni, D. Rustioni, S. Ranzzani, Allan Guin Gale, H. Nánási, Yi- Chen Lin, M. Emelyanychev, M. A. Gomez Martinez, J. Valcuha, Francesco Ivan Ciampa...